Welded fence nets are also called welded fence nets, airport guardrails. Welded fence nets are supported by reinforced welded nets. Therefore, the welded fence mesh is one of the fence safety net products with high strength and high safety protection levels. The outstanding feature of the welded fence mesh is beautiful practical, high safety, strong anti-climbing ability, good corrosion resistance, convenient maintenance, sturdiness and durability, convenient installation, etc. Because of the many advantages of welded fence nets, welded fence nets are widely used in: airports, military bases, prisons, and other high-security places.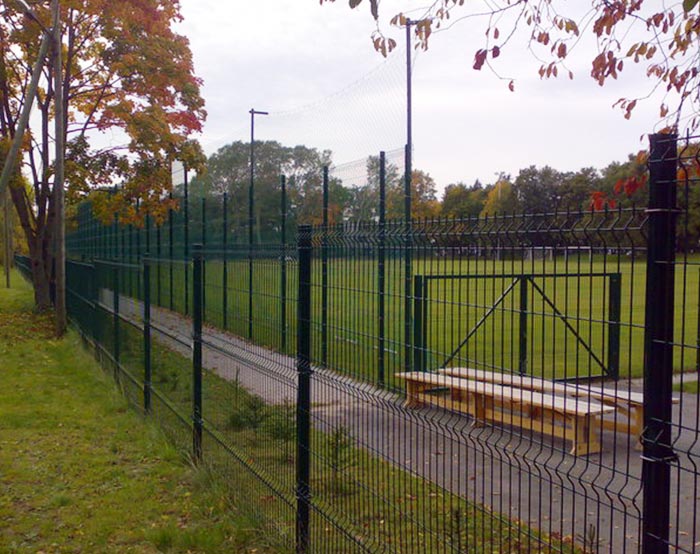 Welded Wire Mesh Security Fence
The raw materials of the welded fence are high-quality low-carbon steel wire, stainless steel wire and low-carbon steel. The surface anti-corrosion treatment of the welded fence is galvanized, dipped, and painted. Therefore, the welded fence has strong welding, high strength and net weight. Lightweight, easy to install, beautiful and economical features.
Welded fence netting is one of the fencing facilities. If the welded fence netting is exposed to the outdoors for a long time, it will inevitably have some corrosion. Then what is the surface anti-corrosion treatment of the welded fence netting? Below Welded Wire Mesh Security Fence Manufacturer will take everyone to get to know!
The principle of hot-dip galvanizing of welded fence mesh is to clean the welded wire mesh, then treat it with a solvent, dry it, and then immerse it in a zinc solution. The welded wire mesh reacts with molten zinc to form an alloyed zinc layer.
The process flow is: degreasing-washing-pickling-auxiliary electroplating-drying-hot dip galvanizing-separation-cooling and passivation. The thickness of the hot dip galvanized alloy layer of the welded fence mainly depends on the content of chemical substances, for example : Silicon content, steel cross-sectional area, steel surface roughness, zinc temperature, immersion time, cooling rate, cold rolling deformation and other factors. The construction unit should accurately grasp various construction drawings when installing welded fence nets, especially The exact location of the various pipelines buried in the roadbed shall not cause any damage to the underground facilities during the construction process. The surface treatment of the welded fence net is plastic dip or hot dip galvanizing.
Our company also has Welded Wire Mesh Security Fence on sale, welcome to contact us.